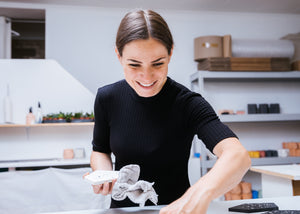 Tell us a little bit about yourselves. What is your background?
My name is Klara Schuster and I am from Austria / Linz, I am 32 years old and founded my label frauklarer in 2012. Before that I worked as a  graphic designer and pedagogical field. So I am a kind of autodidact. I love to experiment with casting materials and currently work mainly with Jesmonite.

Where does your passion for design come from?
I have been enthusiastic about craft since I was a child. I built a hamster cage with my father, that was more exciting than the hamster itself :) 
Create something with your own two hands is so great. This is what I love to do all day long. 

What inspires you?
I need nature around me; walking in the forest clears my head. 
A great inspiration for me is travelling. Other cultures, architecture and good food.

What are your 3 favorite things?
chocolate, chocolate and some peanut butter :)
A day with friends, at the lake with good food and wine and of course my daughter who turns 1 in a few days.