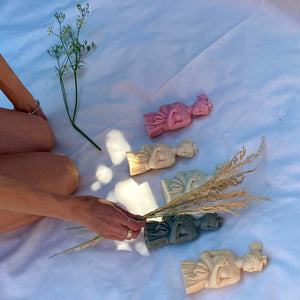 Hot&Vintage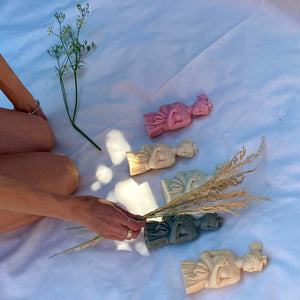 Tell us a bit about yourself. What is your background?
I am Noemi I am 26 years old and I live near Milan. I studied fashion and clothing technician, after high school I continued my studies in the United States (New York), where I stayed for about 4 and a half years and I obtained a specialization in Visual Merchandising.

I consider myself the "mind" and the creative part of this project as the idea of Hot&Vintage came from me, but in the concrete realization my brother Daniele has a fundamental role as he totally manages the production of our candles. He created all the silicone moulds with which we make our Lady Aphrodite and drips every single candle by hand, right from the first ones we created and then perfected over time.
I decided to create Hot&Vintage almost a year ago, I was leaving behind some not easy months and, not fully satisfied with my work situation, I felt I wanted to do something of my own and that would give me more satisfaction. The lockdown for me was the decisive push to focus 100% on my project. I started to share on Instagram what I was doing, dealing both with the creation of decorative candles and with the buying and selling and research of vintage garments to be re-proposed on the market in order to give them a new life. So I created a page where the contents are a mix of photos of vintage clothes and handmade candles made of natural soy wax.
Where does your passion for design come from?
It is difficult to identify exactly where my passion for design comes from. I have always been passionate about art in general, which I think is a word wide enough to understand a little bit all the things I love: fashion, photography and design. I've always been curious about a lot of things, but I think what fascinates me the most is imagining and visualising how to combine a set of objects in order to achieve something harmonious. Whether it is to combine garments to create an outfit, or to place furnishing objects to take the perfect picture, once I manage to get what gives me the visual pleasure I was looking for it creates a feeling of satisfaction and happiness in me. 
What inspires you?
I feel more inspired in moments of pure serenity when I am surrounded by nature in the sun, observing the natural world always makes me appreciate what surrounds me. There are so many things from which I draw inspiration or that give birth to new ideas in me, I love Greek mythology and this certainly influenced me in the creation of Lady Aphrodite. I also find inspiration in the women I admire and in Italy, its landscapes and art.
What are your 3 favorite things?
music, sea and food (especially Italian).